Pleiades
In his book Siderius Nuncius, Galileo published a sketch showing his map of the Pleiades made using his approximately 20 powered telescope with its 15 arc minute field of view.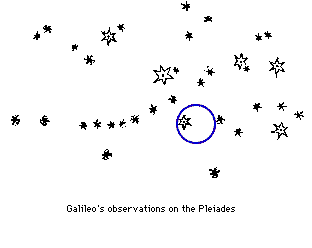 Galileo's map shows 36 stars in addition to the six stars which are known as the Pleiades. The blue circle shows the field of view of Galileo's telescope.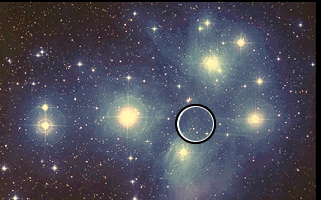 This is a photograph of the Pleiades, clearly showing the thousands of stars which are visible with a modern telescope. The black and white circle shows the field of view.
In March, a contingent from the astronomy group left Houston in order to view the Pleiades in a darker sky. Although it was not possible to see more than one of the 6 bright stars in the Pleiades simultaneously in the field of view of the telescope, it was possible to see at least one bright star and one faint star at the same time. By slowly moving the telescope in such a way that one of the stars in the prior field of view remained within the subsequent field of view, it was possible to create a reasonably accurate map of the constellation. Using this technique, Jessica drew a star map of the Pleiades which appears below.