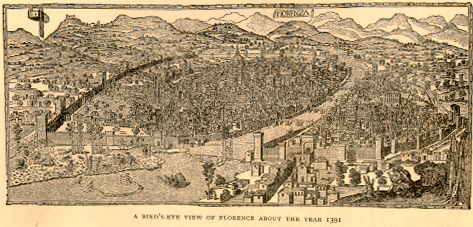 At the height of the Renaissance, the city of Florence housed 70,000 to 100,000 people. Florence was divided into four quarters: San Spirito, San Croce, San Maria Novella, and San Giovanni. Each quarter was further divided into 4 gonfalons. The gonfalons served as the administrative units of the city, and each citizen belonged to one.

During the middle ages, the city outgrew two sets of wall. The third wall, which is seen in this picture, was built in 1284. Throughout the Renaissance, the towers were broken down, and the stones used for housing. There were six fortified gates that were the entrances to the city. There were four bridges which crossed the Arno: the Rubaconte, the Ponte Vecchio, the Ponte Santa Trinita, and the Ponte alla Carraja. The last of these collapsed in 1304 while it was crowded with spectators. They were watching a "Representation of Hell" which was being performed on boats in the water.

Most of the streets were paved with flagstone. There were gutters throughout the city to carry water down to the Arno, preventing the streets from getting muddy.