Maria Celeste's Birth Certificate and Horoscope
by Brian Becker*
From: The Book of Baptisms of the Church of San Lorenzo [in Padua], from the Year 1597 to the Year 1605**
21 August [1600] Virginia, daughter of Marina [Gamba] of Venice, born of fornication the 13th of this month, was baptized by me, Giovanni Viola. The witnesses were Mr. Bartolamio di Ser Domenego Mazo, a Florentine, factor of the Illustrious Contarini dal Scrigno.
On the same page of vol. 19 of the Opere, the editor has reproduced a birth horoscope in Galileo's handwriting, found among his papers: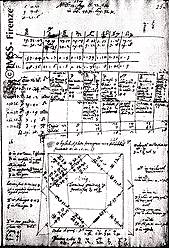 On the character of Virginia
And first, although Mercury and Venus are in separate houses and regard each other in no aspect [i.e., are in quite different aspects], a certain discord between the rational and sensitive powers of the soul is indicated. For since Mercury is very powerful and in an ruling sign whereas the Moon is weak and in a obedient sign, her reason will be ruled by emotions.
Saturn, who indicates a person's morals, because he is the strongest, foretells that her character will be upright and serious, though tinged with some venom. This, however, is softened and tempered by the fortunate Jupiter's beneficent and powerful square aspect with Mercury. It makes her, moreover, capable of enduring hardship and troubles, solitary, taciturn, niggardly, zealous for her own advantage, jealous, and not always truthful in her promises.
Also, the fortunate Sun grants some personal authority and loftiness of character.
Spica rising, further contributes charm and reverence for God. Libra, a human sign, vouches for her gentle conduct toward others and her tranquillity.
On her intelligence
As for her intelligence, Mercury, who is endowed with much authority, promises a creative intelligence, and since he is associated with Jupiter, this increases her wisdom, prudence, and gentleness.
And an auspicious and powerful Saturn especially helps her memory.
Also, Libra, ascending with many planets, favors intelligence, and . . . [text ends here].
*Translation by Michael Maas and Albert Van Helden
**("Liber Baptizatorum Ecclesiae S. Laurentii ab anno 1597 usque ad annum 1605. D," f. 43 r. Archive of the episopal court of Padua) Printed in Le Opere di Galileo Galilei, Edizione Nazionale, ed. Antonio Favaro, 20 vols. (Florence: 1890-1909, reprinted 1929-39 and 1964-66), vol. 19, p. 218